30" Bosch 800 Series Combo Speed Oven - HBL8743UC
$

5,499.00

CAD
$7,149.00
Save $1,650.00
Literature
Specifications
Design
Bosch wall ovens can be installed flush for a sleek timeless design, or proud for a more traditional look
Touch control with SteelTouch™ buttons makes operating the oven easier
Bosch wall ovens are compatible with most existing cutouts
Performance
Lower oven's convection multi-rack mode gives uniform baking results even when using all 3 racks simultaneously
Family or guests late to dinner? Keep food warm in the lower oven without overcooking until ready to serve by using the warm mode
Lower oven's proof mode maintains a low temperature to proof yeast doughs for an even and faster rise compared to being left on the countertop
Closed-door broiling prevents intense heat from escaping the lower oven - offering rich, even browning on tender cuts of meat and perfectly toasted casseroles
Lower oven comes with 2 standard racks and 1 telescopic rack that gives easier accessibility for large or heavy dishes
Dampened hinges softly guide the lower oven's QuietClose door shut. It's premium engineering that you'll appreciate each time you close your oven
Efficiency
Download Bosch Home Connect application and control the lower wall oven with your smart phone or tablet
Convenience
1 light in the upper speed oven and 2 lights in the lower oven gives visibility in the cavity so you can see the cooking progress
Large oven window lets you monitor the cooking progress without opening the oven door to maintain a consistent oven temperature
Keep your home safe by avoiding accidental or unsupervised use of your wall oven with the panel lock feature
Capacity
With capacities of 1.6 cu. ft upper speed oven and 4.6 cu. ft. lower oven allows enough space to cook everyday meals or for a crowd
Bosch speed combination ovens create an all-in-one cooking center with an upper speed oven and a Genuine European Convection oven below
Bosch black stainless steel helps guard against scratches and fingerprints
2-in-1 microwave and convection oven with 9 SpeedChef® programs to simplify cooking with fast results
Use speed oven like a microwave with 10 levels of power to quickly reheat leftovers or warm frozen foods
Lower oven's convection multi-rack mode gives uniform baking results even when using all 3 racks simultaneously
Download Bosch Home Connect application and control the lower wall oven with your smart phone or tablet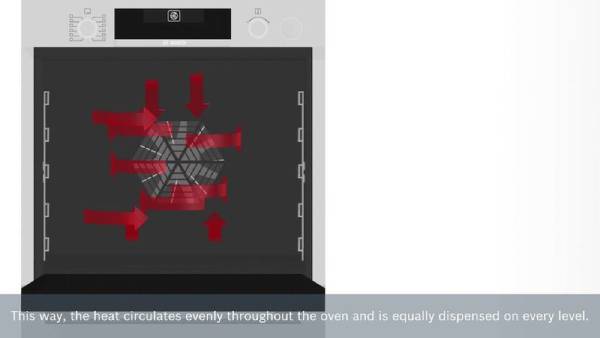 Evenly baked results - on up to three levels.
This function distributes heat quickly and evenly throughout the oven, making it possible to cook on up to three levels simultaneously. Sweet and savoury dishes can be cooked at the same time without mixing flavor.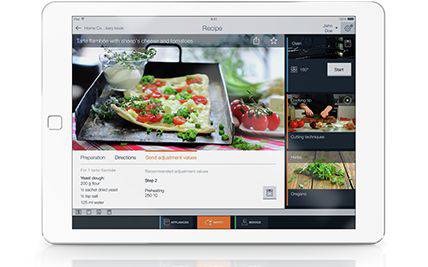 Recipes
The Home Connect function will turn your oven into a cookery book, as your mobile device will give you full access to an entire world of clever recipes which you can transfer directly to your oven. You can also save them in the Home Connect app for easier access.
General
Cooking mode
Combined operation, Half width variable grill, Hot Air, Hot air grilling, Microwave, warming
Included accessories
1 x oven racks /lower, 1 x temperature probe /lower
Certifications
Home Connect
Yes
Home Connect Features
iService Remote, Remote Monitoring and Control
Connectivity type
Wi-Fi
Construction type
Construction type
Built-in
Control Panel Material
stainl. steel + plastic panel
Type of control setting devices - oven 1
Touch Control
Door Material - cavity 1
Stainless steel
Energy source
Electric
Installation Type
Built-in
Size and Weight
Overall appliance dimensions (HxWxD) (mm)
1244 x 755 x 622 mm
Overall appliance dimensions (HxWxD) (in)
49'' x 29 3/4'' x 24 1/2''
Required cutout size (HxWxD) (in)
48 5/8'' x 28 1/2'' x 23 1/2''
Net weight (kg)
141.490 kg
Net weight (lbs)
312.000 lbs
OVEN
Display options - cavity 1
Digital display
T/b heating temperature max. (°F)
0 °F
Comfort
Included accessories
1 x oven racks /lower, 1 x temperature probe /lower
Are some hobs controls integrated?
-
Connection
Power cord length (cm)
127 cm
Power cord length (in)
50''
Current (A)
40 A
Watts (W)
9,600 W
Plug type
no plug
Volts (V)
208-240 V