36" Bosch 800 Series Cooktop in Black Surface Mount Without Frame - NET8669UC
$

1,949.00

CAD
$2,199.00
Save $250.00
Literature
Boost your cooking.
Sometimes you just need a little extra boost when cooking. The improved SpeedBoost function in our electric cooktops adds even more power to speed up the cooking process.
Smooth Ceramic Glass
The smooth ceramic glass surface makes cooking and cleaning especially easy.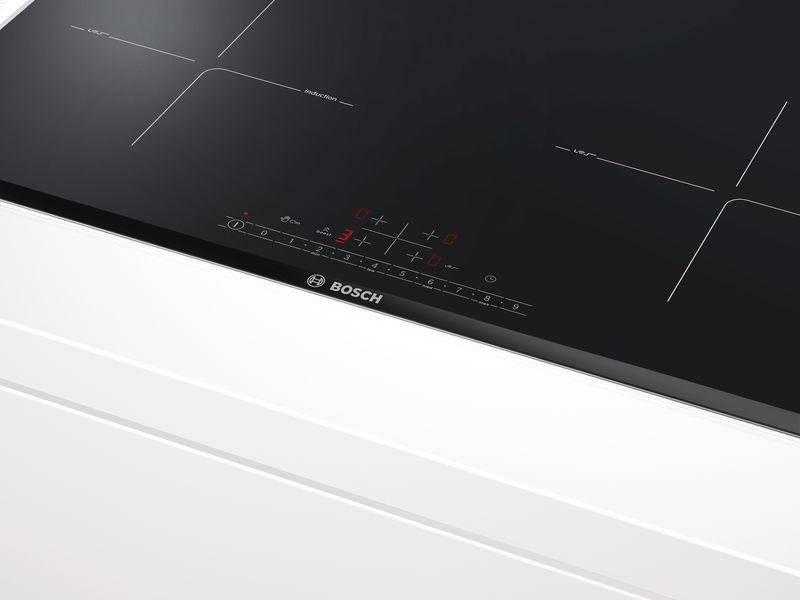 Your temperature, your way.
Juggling multiple pots and pans on different power levels can be confusing and frustrating. With PreciseSelect, an intuitively designed control panel allows you to select the cooking zones and set the specific power level you want quickly and easily.
SpeedBoost offers shorter heat-up times for liquids.
Bridge Element Accommodates Oblong Pans and Many Diameters of Cookware
Ceramic Glass:this smooth surface makes cooking and cleaning especially easy.
PreciseSelect - direct cooking level selection.
Panel Lock feature locks the control panel to prevent accidental changes in settings.
Design
Black-glass Seemless Design
Cooktop Design Coordinates with Bosch Ovens and Ventilation
Performance
Dual Elements Offer the Capability to use Multiple Pan Sizes
Bridge Element Accomodates Oblong or Oversized Pans and Griddles
SpeedBoost - Delivers More Power to Speed Up the Cooking Process
Convenience
PreciseSelect - Direct Cooking Level Selection - 17 Settings for Precise Control
Use the Kitchen Timer to Measure Cooking Time or as a Reminder
CleanLock - Prevents Unwanted Changing of Settings While Cleaning Spills
Safety
Two-Level Heat Indicator - Warns if Cooktop is Warm or Hot
ChildLock - Prevents the Cooktop from Being Accidentially Switched on. Locks Temperature Settings if in Use.
Cooking zone 9
Type of 9th heating element
Radiant heating
Power of 9th heating element (kW)
1.4 ; 3.6 kW
Location of 9th heating element
front centre/cent
Dimension of 9th heating element (in)
6" ; 9"
Dimension of 9th heating element
140 ; 230 mm
Cooking zone 8
Location of 8th heating element
front middle / central
Cooking zone 7
Type of 7th heating element
Radiant heating
Power of 7th heating element (kW)
0.8 ; 1.9 kW
Location of 7th heating element
front right
Dimension of 7th heating element (in)
5" ; 8"
Dimension of 7th heating element
120 ; 195 mm
Cooking zone 6
Location of 6th heating element
center right
Cooking zone 5
Type of 5th heating element
Radiant heating
Power of 5th heating element (W)
1.2 kW
Location of 5th heating element
back right
Dimension of 5th heating element (in)
6"
Dimension of 5th heating element
140 mm
Cooking zone 4
Location of 4th heating element
middle back
Cooking zone 3
Type of 3rd heating element
Radiant heating
Power of 3rd heating element (W)
1.8 kW
Location of 3rd heating element
back left
Dimension of 3rd heating element (in)
7"
Dimension of 3rd heating element
180 mm
Cooking zone 2
Location of 2nd heating element
center left
Cooking zone 1
Type of heating element
Radiant heating
Power of heating element (W)
1.8 kW
Location of 1st heating element
front left
Dimension of 1st heating element (in)
7"
Size and Weight
Minimum distance from rear wall (in)
2
Minimum distance from counter front (in)
2 1/4
Net weight
30.000 lbs
Net weight
13.8 kg
Overall appliance dimensions (HxWxD) (in)
1/4" 4 " x 37" x 21 1/4"
Dimensions
100 x 940 x 540 mm
Connectivity
Cooktop-based hood control
No
Home Connect
No
General
Variant color
Black
Frame type
Frameless
Basic surface material
Ceramic
Power of the heating elements
1 x 1.2 KW, 1 x 1.9 KW, 1 x 3.6 KW, 2 x 1.8 KW
Dimensions of the heating elements
1 x 14,0 cm , 1 x 19,5 cm , 1 x 23,0 cm , 2 x 18,0 cm
Total number of cooktop burners
5
Type of appliance width
90 cm
Self-sufficient cooker control
Self-sufficient electro hobs
Cooktop type
Radiant cooktop
Construction type
Color of surface
Black
Construction type
Built-in
Design - line
Frameless
Number of electric elements
0
Number of electric cooking zones
5
Type of frame
Frameless
Number of gas burners
0
Number of halogen elements
0
Installation Type
Built-in
Total number of cooktop burners
5
Number of radiant elements
5
Number of electric warming zones
0
Safety
Residual heat indicator
Separate
Connection
Frequency
60 Hz
Energy source
Electric
Power cord length
96 cm
Watts
10,200 W