24" Whirlpool 55 DBA Quiet Dishwasher with Adjustable Upper Rack - WDP560HAMB
$

699.99

CAD
$949.99
Save $250.00
24" Whirlpool 55 DBA Quiet Dishwasher with Adjustable Upper Rack in White - WDP560HAMW
$

699.99

CAD
$949.99
Save $250.00
24" Whirlpool 55 DBA Quiet Dishwasher with Adjustable Upper Rack - WDP560HAMB
$

699.99

CAD
$949.99
Save $250.00
24" Whirlpool 55 DBA Quiet Dishwasher with Adjustable Upper Rack - WDP560HAMZ
$

699.99

CAD
$949.99
Save $250.00
Literature
Product Overview
55 dBA Quiet Dishwasher with Adjustable Upper Rack
Clean dishes with a 55 dBA quiet dishwasher. This dishwasher's Adjustable Upper Rack can be lowered or raised to accommodate taller items while an 11" Cup Shelf frees up space. It also includes a Boost Cycle that provides extra effort for stubborn messes and a Triple Filtration Wash System that filters food particles and cleans water between wash stages.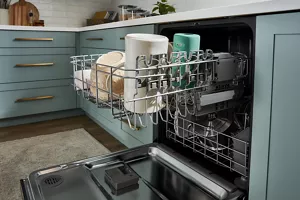 Adjustable Upper Rack
Manually raise or lower the upper rack two inches to better fit tall items like water bottles with the Adjustable Upper Rack.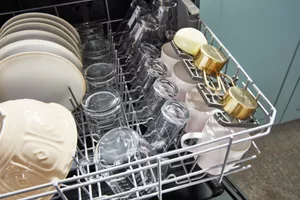 11" Cup Shelf
One 11" Cup Shelf fits five additional cups or small bowls to free up extra space in the racks below and conveniently folds down to stay out of the way when not in use.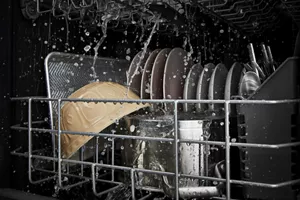 Boost Cycle
Skip scrubbing and pre-rinsing with the Boost Cycle. This cycle uses more water, time and heat than the Normal Cycle and takes less time than the Heavy Cycle so you can target tough messes that need a little extra effort.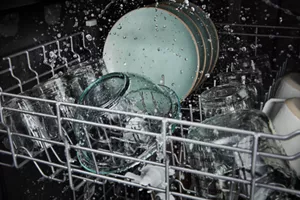 Quick Wash Cycle
Clean dishes fast with a cycle that thoroughly takes care of plates, pans and glasses when you need them done in a hurry.
Additional Features
55 dBA
Keep your kitchen quiet during cleanup with a dishwasher sound level of just 55 dBA.
Extended Soak Cycle
Presoak and wash in one Extended Soak Cycle to help stuck-on food dissolve away without any extra steps.
Heavy cycle
Takes care of heavily soiled messes and other hard-to-clean dishes without the extra elbow grease by adding extra time to the cycle.
Normal cycle
Use for normal amounts of food soil to clean up leftover messes from your day-to-day meals.
High Temperature Wash Option
High Temperature Wash Option raises the water temperature to help remove stubborn grease and food grime.
Heated Dry Option
A Heated Dry Option allows you to use a clean, dry dish straight from the dishwasher thanks to added heat for drying.
Certifications
Energy Star Qualified
ENERGY STAR Qualified
Kosher Consumer Friendly
No
NSF Certified
Yes
CONTROLS
Automatic Temperature Controls
Yes
Last Cycle Recall
Yes
Sensor
No
Status Light
Blue
Exterior
True Hold Door
No
Dimensions
Depth
62.23 cm, 24-1/2 in
Height
85.09 cm, 33-1/2 in
Number of Place Settings
14
Features
Number of Wash Levels
4.0
Dimensions
Width
60.64 cm, 23-7/8 in
Features
Dispensers
Detergent and Rinse Aid
Cycles
Number of Wash Cycles
4
Details
Built-In Water Softener
No
Number of Washarms
2
Water Filtration
Yes
2nd Level Rack
Cushion-Tip Tines
No
Style
Straight
Utility Basket
No
Lower Rack
Cushion-Tip Tines
No
Fold-Down Tines
No
Glides
Wheels
Style
Straight
Silverware Basket
Covers
Yes
Details
Number of Racks
2
Electrical
Power Cord Included
No